Volunteer with Donation Ducks!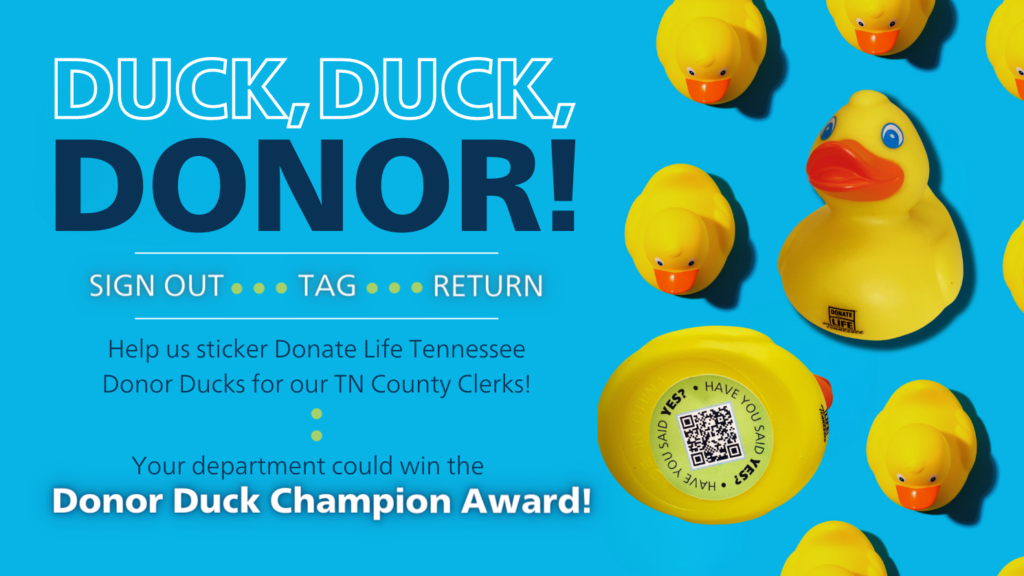 Donation Ducks are migrating to Tennessee!
Have you played Duck, Duck, Jeep? What started as a random act of kindness has made its way from Canada to the US. What better way to spread kindness than to spread the lifesaving message of donation?
These rare DLTN Ducks are arriving in late June. To ensure our Donation Ducks leave a lasting legacy, we need volunteers to sticker every duck with registry link! Join us at the office or welcome a flock to your pond to sticker the ducks before we release them to our County Clerk partners across Tennessee.
Reach out to Sharon Pakis at Sharon.pakis@dcids.org to sign up!
About Tennessee Donor Services
An Extraordinary Commitment to Science, Health, and Hope
Tennessee Donor Services a non-profit, organ procurement organization (OPO) dedicated to saving and improving lives by connecting organ and tissue donations to the patients who need them. TDS serves nearly five and a half million people in Tennessee and Virginia.